Winnipeg's $1.8 billion North End wastewater treatment project redefines complexity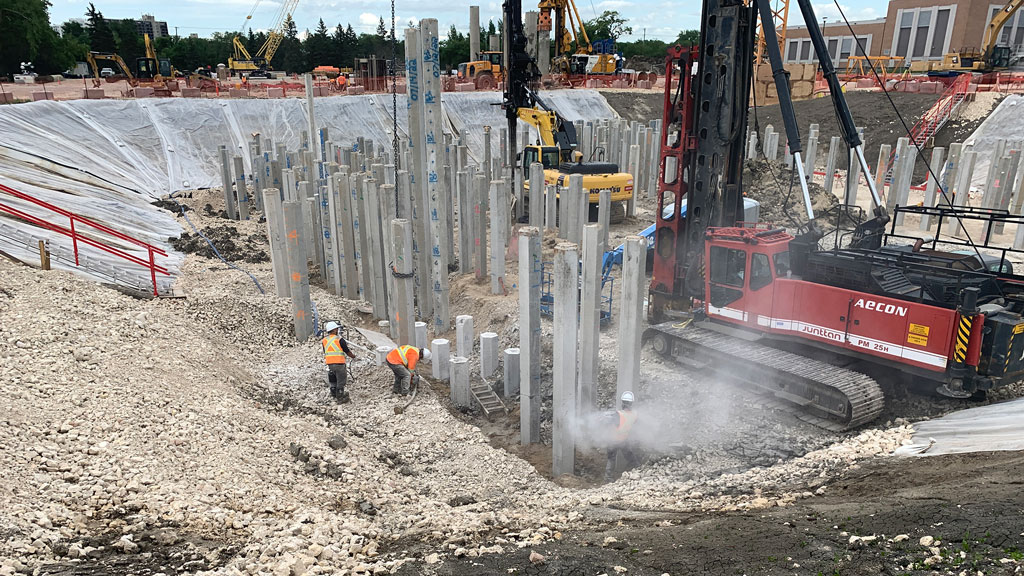 Winnipeg's North End Wastewater Treatment Plant project, recognized as one of the largest and most complex wastewater treatment modernization projects in North America, is more than just a megaproject – it it's three megaprojects in one.
The financing, procurement, execution and commissioning seemed so complex that in February 2019, Winnipeg City Council approved an application to split the entire project into three separate capital builds: the component of power supply installations and headworks; biosolids facilities; and nutrient removal facilities.
The head work, priced at $473 million, began alongside existing operations of the treatment plant in 2021 with completion expected in 2025.
On August 16, three levels of government announced joint spending of $550 million for the New Era Biosolids Plant, which will be built on greenfield land over six years with a targeted start date of 2023 or 2024.
The nutrient removal facility, which has been budgeted at $828 million with no funding source yet identified, has an expected procurement, construction and commissioning schedule of 10 years or less.
Total estimated cost: $1.85 billion, split between three governments.
In the August 16 funding announcement, Manitoba Municipal Relations Minister Eileen Clarke said, "This is a monumental project that will impact thousands of current and future Manitobans living in capital region and beyond.
In addition to replacing inadequate century-old infrastructure, the improvements will protect waterways by reducing unwanted sewage and solid flows and improve the city's handling of flows during wet weather.
"When you put together three megaprojects, the complexity is even greater," said Cynthia Wiebe, director of engineering services for the city. "You know, planning, risk, cost, risk management. It was really a lot of conversation, planning, logistics.
Key participants in the first phase include KGS Group, Owner's Consultant, Power Supply Upgrade; AECOM, owner's consultant, headworks; Black & Macdonald, design-build contractor, power supply; Red River Solutions (Aecon/Oscar Renda/Hatch JV), head works contractor; KGS and the city, responsible for the construction of the power supply; Aecom and the city, responsible for the construction of the headworks.
The city and its owner's consultants have decided to source through design-build, allowing work to begin after design for only about 30% of the headworks and allowing for continuous design adjustment over time. measure of the start of work, explained Wiebe.
Unlike design-bid-build, in design-build the engineer and contractor are in communication as a team, having conversations about constructability with reality checks as the project is progressing.
"Because they're integrated, they can start construction in one area versus a different area because what really matters is the overall schedule and the overall cost and that gives them a lot more opportunity to innovate. in the frame," Wiebe said.
An example of innovation from the collaboration was the decision to use a jet grouting system to stabilize the ground during excavation at the lead site, versus a more traditional deep sprinkler system, a noted Wiebe.
Dividing the project into three also clarified the distribution of risks, she explained. There was far more soil contamination than expected, a risk that falls to the homeowner, Wiebe said.
"Knowing ahead of time that you're going to have to be agile, you're going to have to deal with these things and create that kind of framework and that mentality, and that collaborative culture, really goes a long way."
The intake facility will include a raw sewage pumping station, a grit removal system, a micro-tunnel extension of the existing interceptor sewers, fine screens and compactors and an emergency generator facility from the factory. All will be constructed while the existing facility remains in service.
With nearly every component, Wiebe said, the technology being introduced is a generational improvement over what might have been envisioned just 15 years ago.
"We follow strict criteria. For example, we have high-end screening; the grit removal system is a very effective system for removing fine particles," Wiebe said. "It's one of the best technologies available today."
As for the biosolids plant, years ago the end product might have had limited use. Phosphorus, a non-renewable resource that is being depleted around the world, will be recovered from biosolids using equipment and technology developed by Ostara. The end result is a high value fertilizer called Crystal Green.
"It's a very marketable product. So we're really building something big for the future that's going to allow us to have the greatest beneficial impact on the environment.
Follow the author on Twitter @DonWall_DCN.