Vauxhall has followed price cuts for its Corsa and Mokka electric vehicles (EVs) with cuts to its Grandland and Crossland SUV ranges as part of a move to streamline the complexity of trim levels.
Both SUV models will adopt a new streamlined trim strategy which includes Design, GS Line and Ultimate levels in 2022 – along with price cuts of up to £2,430 – as the Insignia retains just two trim levels for the customers.
Vauxhall has responded to the government's reduction in the values ​​of the Plug-in Car Grant (PiCG) and eligibility threshold by reducing the prices of its electric vehicle models.
From now on, its Grandland and Crossland will be subject to price reductions, with the brand claiming to maintain "equal or increased levels of specification on most versions".
Vauxhall said the new trim strategy has created a simplified range structure to provide a more seamless price step between trim levels.
Speaking to AM for a profile article in AM's February edition, Peter Brown, managing director of drivvn, which counts Stellantis as its biggest customer, said complex vehicle model lines were the one of the main obstacles to an effective online customer journey.
"In a dealership, the customer might be guided through the setup process, but online things should be much simpler," he said.
"It's very hard for people to understand that if you go for a certain option package, you automatically can't have this or that other option."
New trim levels
Vauxhall's New Grandland range sees the deletion of its old Elite trim option and the addition of two new drivetrain options in the form of the Grandland Plug-in HYBRID-e Ultimate (225PS) and the 1.2-litre Grandland Ultimate ( 130PS) Manual.
Standard on the entry-level New Grandland Design are: 17-inch alloy wheels; a seven-inch touchscreen infotainment system with Apple CarPlay and Android Auto; and dual-zone electronic climate control.
The Grandland GS line features a black roof, exterior mirrors and wheel arches combined with 18-inch alloys, tinted rear windows and alloy-effect skid plates. It also adds Vauxhall's new Pure Panel cockpit with a 10-inch color touchscreen and 12-inch digital instrument cluster.
The Ultimate features 19-inch alloys, IntelliLux LED headlights and body-color front bumper, rear bumper, wheel arches, door liners and scuff plates, as well Alcantara upholstery with heated front seats and steering wheel.
The Elite Edition and SE versions are also dropped from the Crossland range, with Crossland Design 1.2-litre (130 bhp) automatic and Crossland Ultimate 1.2-litre (110 bhp) added to the range.
The design builds on the outgoing SE trim, adding safety tech including driver drowsiness alert, forward collision warning and automatic emergency braking.
Standard features also include 16-inch two-tone alloys, a seven-inch color touchscreen with Apple CarPlay and Android Auto, lane departure and speed signal alerts.
GS Line gains a Black Pack – including gloss black Griffin logo, skid plates and taillights – plus contrasting roof color, tinted rear windows, 17-inch alloys, screen infotainment system eight-inch touchscreen and dual-zone electronic climate control.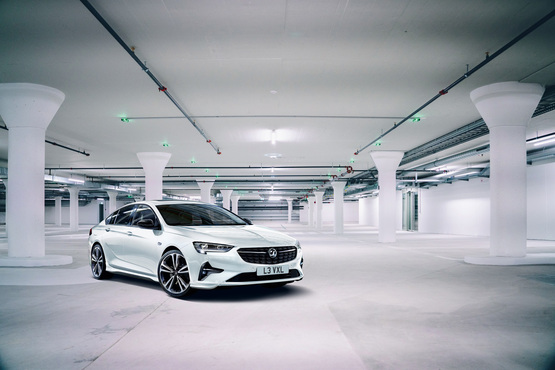 Ultimate highlights include 19-inch alloys, LED headlights, and vehicle-color front bumper, rear bumper, wheel arches, door liners, and scuff plates. bodywork as well as Alcantara seats, which are heated at the front.
The new Insignia's new Design trim includes 18-inch alloys, an eight-inch touchscreen infotainment system with Apple CarPlay and Android Auto, and dual-zone climate control.
The Insignia GS Line features 20-inch alloy wheels, Alcantara interior trim, AGR-approved ergonomic active front sports seats and wireless smartphone charging.