Hong Kong uses new calculation methods to develop map of COVID-19 hotspots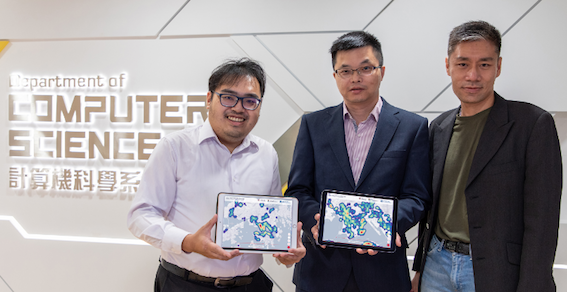 Real-time data depicted on the Hong Kong COVID-19 hotspot map comes from the government-run interactive map dashboard
A research team led by Hong Kong Baptist University (HKBU) launched the Map of COVID-19 hotspots of Hong Kong which enables the intuitive visualization of real-time and dynamic geographic distribution of COVID-19 cases in Hong Kong.
The map is supported by new spatiotemporal big data computation methods developed by the team with significantly improved resolution and speed in outputting visualization results.
The mastery of timely and accurate information on the geographical distribution of COVID-19 infection cases is important for the implementation of effective infection control measures and the allocation of medical resources against the pandemic by the authorities concerned. This information is also useful for members of the public to understand the health risks they face.
The risks of COVID-19 infection in different geographies, in terms of the abundance of COVID-19 cases, are presented in a color scheme, ranging from purple for the lowest level of risk to red for the highest. raised. The changing risk levels of locations visited by infected people over the past seven days can be seen through the dynamic movement of color patterns on the map.
The color visualization of COVID-19 risk levels on the map is based on real-time automatic update and calculation of infection case data.
image captionProfessor Xu Jianliang, Head of Computer Science Department (middle); Professor Byron Choi Koon-kau, Associate Director (right) and Dr. Chan Tsz-nam, Assistant Research Professor of the Department of Computer Science (left).